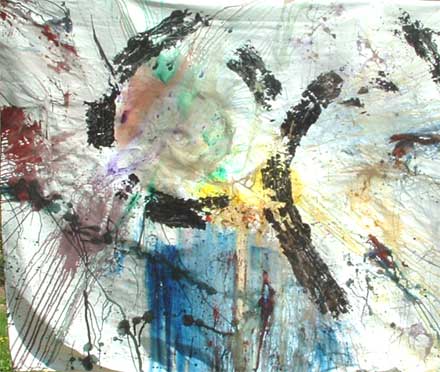 "Old Snow Tires In Two Asymmetric Stacks"
Featured at Oregon's Pioneer Museum for the month of September 2004, Old Snow Tires is the quintessential object-oriented abstract, illustrating both the method and the power of my object-oriented approach.
At 72×60, this free-hanging canvas has it all, and even though I'm still barely scratching the surface of the power and depth of object-orientation, I'm still very proud of this piece. Be sure to see this work in person if you can …

Composition through the arrangement of the subject matter was the key: I spent quite a bit of time finding just the right layout of my objects and then even more time selecting just the right colors. Planar and non-planar applications were used, with initial transparent layering followed by more opaque effects.
Meditation is the key to the visual journey. By letting yourself bond with this painting, you will suddenly see the shapes of the two stacks of tires come to life. As your brain creates new neural pathways to accommodate the visual information contained in this painting you may find yourself achieving a powerful altered state of consciousness.
Enjoy!
— Chriss Pagani
Tags:
Abstract
,
Shows