I've tried to keep things simple so when it comes to riding I have always eschewed the use of equipment that required even more equipment to use. But I finally gave in to all that nagging about getting clipless pedals.
I didn't really believe all the hype, you know. The clipless fans tell me how wonderful it all is but I just couldn't see it. I'm not sure why I tried it. Oh yeah… I guess it was a sale Nashbar had – it was a ridiculously good deal on a combo of shoes and SPD pedals. I figured, why not? I could always use the shoes which looked pretty cool and then the pedals were thrown in for almost nothing. At least I could say I tried them.
Some assembly is required…
First, I had to decide what bike I'd use. I decided to put the new pedals on the Norco 'Arctic' hybrid, also known as the Pagani ArtMachine.. It wasn't hard. I got a pedal wrench for just that purpose. Remember, kids, the pedal on the left (opposite the chain rings) is backward-threaded: you turn clockwise to loosen, counter-clockwise to tighten!
I practiced clipping and unclipping leaning on the van. It seemed easy enough but I'd always heard that you WILL fall the first time or two.
By now it was almost dark but I had to go anyway. I couldn't stand the suspense. Wheee! It works! What an interesting feeling.
Then I had to take a real ride but waited for daylight and lack of rain. I just took a little tour of Sandlake Road and Galloway Road just to see how it felt.
div id="center">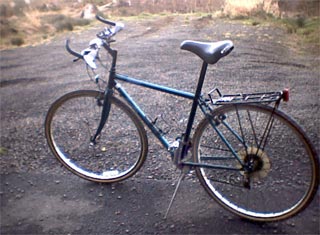 The Norco on Top of the Hill
taken on Galloway Road using the cheesy pencam
It's an almost.. hmm… wonderful experience (hint hint) ..you feel like you are ONE with your machine. I never forgot to unclip..so far. It helps a *little* to be able to pull up as well as push down on the pedals, but I think for me it produces a harder to describe feeling. I like it.
I can't honestly say it made climbing much easier, but there may be some adjustment required. I do stop a lot for art purposes but as long as I keep making sure to unclip I'll be fine. The first time I fall because I forgot about the #&*&*#$ things I might change my mind.
It was a lovely tour, however brief.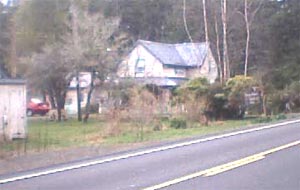 The Lovely & Talented Sandlake Inn
I ordered more pedals for my other bikes. I don't think I'll go back…

Tags:
Bicycling