Well, soon the weather will be good enough for me to paint outdoors, as I must do to create my larger abstracts. I admit I'm getting antsy. I want to get going! I have so many ideas during the winter and I'm afraid I'll forget them all before I can actually implement them. In the meantime, here is a smaller work, celebrating Summer: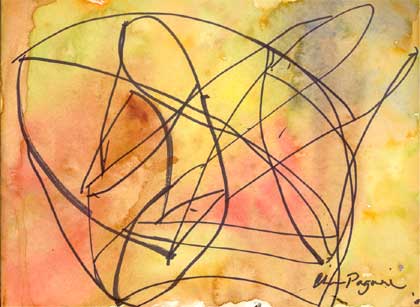 I love the color even though I've been giving serious consideration to going back to black and white abstract representations. In any case, I'm also looking for new corporate and small business locations for my work. So if you have a business, why not join Ernst & Young, and Mount Gay Distillery to become an investor or displayer of Pagani abstracts?
BTW… For those looking for representational art, particularly paintings of Oregon scenery, have a look at the Oregon painting selection at the Roadside Artist Gallery. That's the best place for that other kind of art.
And let's hope for some prolonged good weather soon.
Tags:
Abstract
,
Painting