Working only in black and white, this abstract expressionist painting experiments with the achievement of layers and depth through various techniques. The style may be reminiscent of Jackson Pollock, but the manifested patterns are a bit more simplistic while the layers give greater depth.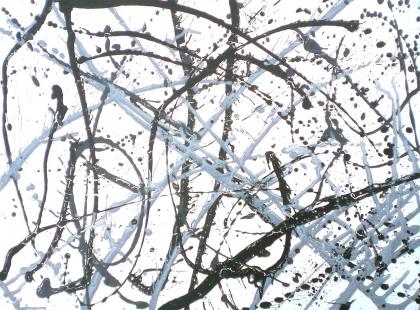 This abstract expressionist painting is 30″ by 40″, acrylic on stretched canvas. It's an experimental piece for me, so I've simply titled it B&W #2.
This painting uses texture and shades of gray to create a moving space. Keeping it as free form as possible all layers but the last were done wet into wet. There is substantial three dimensional texture to the white space, giving the painting different appearances in different lighting. I like its dynamic flow and movement, and it seems to have the beginnings of the object-oriented, perceptual puzzle neural programming effect that I am trying to achieve.
As this is an experimental work, I don't intend to send it off to my gallery. If anyone is interested in acquiring it, however, drop me a note.
Tags:
Abstract
,
Painting