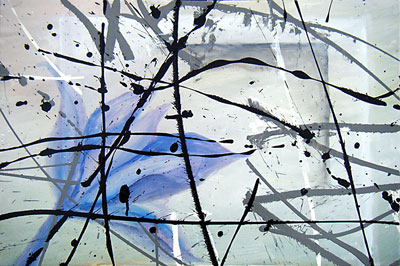 The Impressionist
Acrylic on Canvas – 20″ x30″
Elements of impressionism appear as ghosts in the the background of this abstract painting. There's a flower, a mat, a frame… and more. But ultimately, this is an abstract expressionist work of art.
For as we know, canvas is canvas and paint is paint. They have a life of their own … and something to say.
This painting is also new for me in that it represents more of an apartment-sized work rather than the grand scale of some previous paintings. This will also make it more affordable.
This painting is available for less than eight hundred at Absolute Arts
This work does not represent a complete change in direction: There will be more in this line as well as the black & white line at a later date…
Tags:
Abstract
,
Acrylic
,
Painting