Continuing experiments using black & white painting, gray scale painting with Pollock-like style on top of Pagani object-oriented 3-D painting, this is #5:
Tentatively titled
X-Ray Starfield
, this black and white object experiment is 24″ x 36″, acrylic, krylon, clay and india ink on gessoed stretched canvas.
As with my previous offering, this painting has substantial three dimensional space, although not as much – and thus it is also not as heavy. Because of of the multi-dimensional aspects of this artwork, this painting may have a substantially different appearance depending on the angle of primary lighting.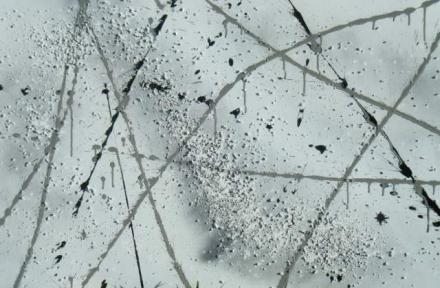 The long term viability of this approach will be interesting to see. As this is an experimental work, I am willing to entertain
reasonable offers
.
Sold
Pagani
Tags:
Abstract
,
Acrylic