Running and playing on the rocky-sandy beach of Oceanside, this young dog is full of joy and energy. The wet sand captures the reflection of the sky and water.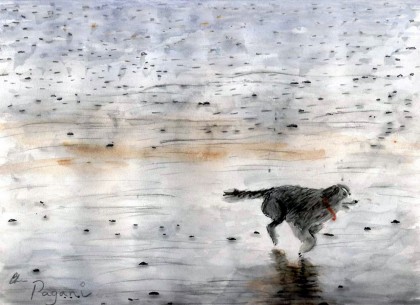 Dog On The Beach At Oceanside
original watercolor
9″ x 12″
Oceanside, Oregon has a rocky beach where you can find lots of agates. Like other Oregon beaches it has leash laws but many people ignore them and the cops don't get there often enough to worry about.
I loved the way this painting turned out. It has been used as an illustration in a medical journal and of course went immediately into a private collection. Get prints while you can!
Tags:
Oregon
,
Watercolor