There are more than three rocks but the biggest and closest to shore are known as the three graces. These sentinels have stood guard at the mouth of the bay for thousands of years.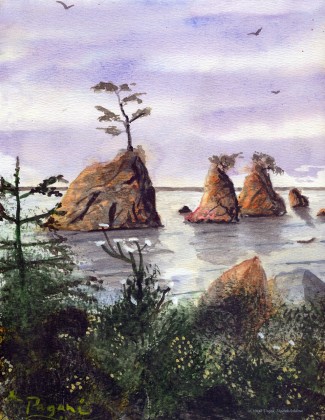 The Three Graces
(Tillamook Bay, Tillamook County, Oregon)
Original Watercolor, 9″ x 12″
The nearby port of Garibaldi still has fishing boats…for now. They pass these rocks everyday and probably wouldn't give them much thought were it not for the nearby range markers. You can get to the closest rock at a very low tide but mostly you need a boat.
Tags:
Oregon
,
Watercolor