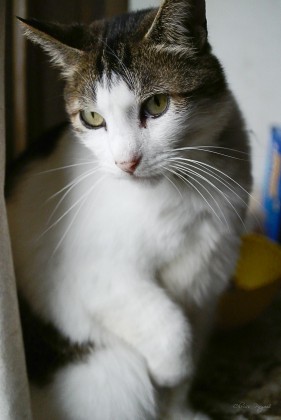 It occurred to me that I might have left some kitten fans hanging, after telling my story of rescued kittens.. so here is the update:
Then:
And Now:

Lucy, the black and white bobtail, is super-smart and curious. She is the one you can count on to figure out stuff that cats shouldn't really figure out. Hamster, the orange bobtail, is maybe two weeks older than Lucy, but he's a very laid-back kind of boy. They both love people and have learned to ride in the car. Lucy is especially curious on rides, looking at everything.
The two kitties shown here love each other very much. You wouldn't know they are two weeks apart from different litters. Hamster loves to bathe his sister Lucy, and they play really well together.
I still hope that at least one of them will find a home of his/her own someday. They deserve it.
NOTE: All my blog postings about cats and kittens (with lots and lots of cute pictures!) at The Feral Cat Rescue Project ..please come see me there. 🙂
Tags:
Cats