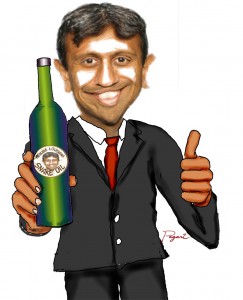 Caricature art of Bobby Jindal, governor of Louisiana and someone who is already running for President.

Look, folksy smooth-talking "aw shucks" kind of politicians really bother me. You know they are full of crap, but they manage to fool a lot of people.
Jindal is one of those guys. And by the way, his name is Piyush Jindal. "Bobby" is just something he made up all by himself so he wouldn't sound so foreign. It isn't like people really called him that before he gave himself the name… but I digress…. The point is, Jindal is I'm sure personable and really friendly in that "a guy I'd like to have a beer with" kind of way, but he's really just another snake oil salesman who wants the job of screwing over the rest of us. I hope people remember that.
Tags:
Caricature